The #1 Pressure Washing Service in Dunkirk
Calvert County Pressure Washing of Dunkirk provides all the services you need to keep your property clean, safe, and looking good! We'll clean your roof, siding, windows, driveway, and more. Give us a call! We'll help you take care of your home so it will keep taking care of you for years to come.
What Do We Clean?
Driveways
Gutters
Roofs
Siding
Windows
Wood Decks
And More!
Call For A Free Quote
240-466-6888
What Guarantees Do We Offer?
100% Customer Satisfaction
Friendly & Affordable Service From Experienced Technicians
Improved Curb Appeal
Safe & Healthy Living Environment
Free Estimates
Pressure Washing VS Soft Washing
---
As a homeowner in the Dunkirk area, maybe you've thought about pressure washing your property to clean it up a bit. But if you really love your home and want it to last for a long time, you should never power wash your siding! We recommend a gentler and safer method. Soft Washing! But what's the difference between the two?

Pressure Cleaning
Both methods will wash away the algae, grime, algae, and dirt that collects on your siding, but pressure cleaning will harm many surfaces! The high-pressure is too much for your siding. It'll strip off its protective finish, and can even loosen and break off bits of the siding itself. The intensity can even tear up your landscaping. Instead of a beautiful home and garden, you'll be left with an ugly mess.
More importantly, using this technique without the right training isn't safe. If the pressure is high enough to damage your house, it can definitely hurt you! High-pressured water can cause bruises, lacerations, and more serious injuries. That's why higher pressures should only be used by those with the proper training.
Soft Washing
Soft washing is a much better way to clean your home. Since it doesn't just blast off surface stains, how does it work? This method uses low pressure and specialized cleaners to achieve a deep clean! And it thoroughly removes all traces of algae and grime.
Algae, dirt, and other elements aren't just ugly. They're also damaging to the structure of your home and dangerous to your family's health. Soft washing will easily remove these hazards. But, unlike power cleaning, it'll leave behind your siding and its protective finish, beautiful and undamaged.
Our technicians would never hurt your property by using too much pressure on your siding. Instead, we use gentle techniques to get the job done right. So if you're in the Dunkirk area, we'd love to help you protect your house. The exterior property care services we provide will make you even more proud to call it home.
Roof Washing
Are there dark streaks and stains on your shingles? What causes them? And how can you make your roof look shiny and new again?
These days asphalt shingles are mostly made of fiberglass and limestone, which are excellent and sturdy materials. But what's the catch? Algae and mold actually feed on limestone. Over time, algae, debris, and mold will cause the surface to weaken and break apart by eating away the limestone. This kind of damage can TAKE YEARS OFF THE LIFE OF YOUR ROOF!
How can you prevent that from happening? Regular maintenance can save your asphalt and your wallet! So give us a call. Our gentle technique will keep your property healthy and looking good as new.
Why use soft washing? Though its name sounds soft and light, it's tougher than you think. It incorporates a mix of algaecides, surfactants, bleach, and water. Instead of just removing the stains you can see, it actually goes deeper and kills algae, bacteria, and mold. When we clean your roof, we make sure it's done right.
Have you ever seen the damage that power cleaning can do to shingles? It tears them up, leaving a ragged looking surface. The wear and tear on your roof takes years off its life and you'll end up replacing your roof much sooner than you planned.
Have you ever had to replace your roof? It's not an easy job. You might be surprised to learn that roof replacement can cost as much as your car! Give our technicians a call and your asphalt shingles will have a long and healthy life.
How Important is Maintenance?
But what if your shingles don't seem to have any damage? Should you still do regular maintenance on them? We are strong believers in the power of preventative maintenance. Just like regular tune-ups will maintain the good condition of your car, regular cleaning will maintain the good condition of your roof. Don't wait until the damage has already been done! Give us a call to care for your Dunkirk roof. We'll make sure algae, bacteria, and mold never get the chance to shorten the life of your roof!
Why Use Us For Your Exterior House Washing?
Your Dunkirk property deserves the best care possible! When it comes to exterior property care, our team is the perfect choice. But why not just hire the lowest bidder, the cheapest company available? These companies often do low-quality work, but that's not the worst of it. The work they do can actually harm your house.
Some exterior care companies aren't careful to protect your lawn and plants. As a result, homeowners often end up with ruined landscaping. We work on your property, we take all the needed precautions to protect your plants.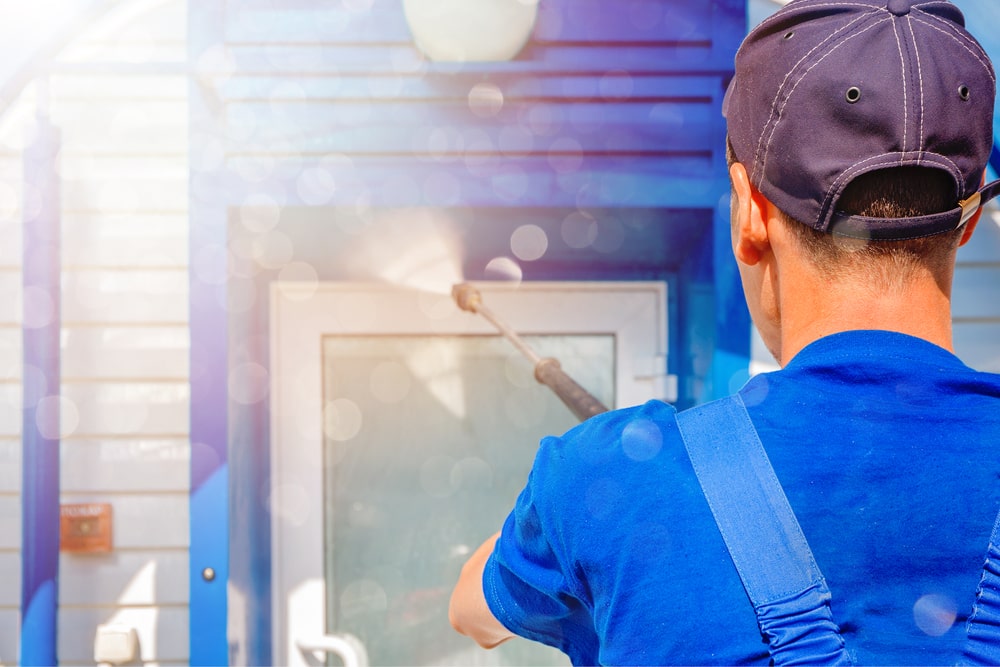 We spray down your greenery, giving it a barrier of cool water to protect it from chemical burns. To be on the safe side, we might even use tarps to cover your garden. We appreciate the hard work you do to beautify your property so we work hard to protect your landscaping while providing the best exterior property care services!
We know that protecting your landscaping is an important part of our job. We want you to be able to come enjoy a beautiful house and garden. So if you live in Dunkirk Maryland, we're here for you.
But there are even worse issues with these companies! Often they're not properly trained, so they don't know when they should be using high pressures or when lower pressures are the better option. Companies like that might try power cleaning your roof to remove the algae, debris, and mold. And we already know how damaging that is! In the end, services like that will cost more in repairs than they're worth.
So in the end, you'd be left with a low-quality exterior house wash and a lot of expensive and time-consuming repairs to do. Certified and trained professionals will always give you the best exterior maintenance experience.
Gutter Cleaning
Gutter cleaning is possibly the household chore that gets the least love and attention. It's not usually how you would want to spend your free time. Plus, it takes much longer if you don't have the right training and tools. So why should you clean your gutters at all?
Your gutters are your home's first line of defense against water damage. Their whole purpose is to carry rainwater away from your house and foundation. But they can only do their job if gutter cleaning is done regularly. Why is that?
Water will overflow from your clogged gutters onto the foundation and maybe even into the basement of your house. Repairing your foundation is costly! Plus, you might begin to have mold issues that could affect the health of your family. And clogged gutters make a good home for unwanted pests. It's clear that regular gutter cleaning is an important part of maintaining your house.
The gutter cleaning services we provide in Dunkirk will help protect your home from damage. Plus, why deal with the unpleasantness of gutter cleaning when we're happy to do it for you?
Why Use Professional Window Cleaning Services?
Your outside windows are exposed to mold, car engine smoke, algae, and changing weather conditions. So they get pretty dirty and dingy looking! Not to mention, the accumulation of these things can cause pitting and scratches in the glass. Regular exterior window cleaning will remove these elements, extending the life of your windows.
What's the best way to clean exterior windows? Power washing and windows aren't a good mix. Power washing is too rough. It can damage glass panes and destroy screens. So what can be done? Soft washing to the rescue! It won't hurt your windows, it'll just leave them shiny, clean, and protected.
Why not clean your windows yourself? Household cleaners usually don't have the power to clean off all the accumulated mold, algae, dirt, and other elements on your windows. To get your windows truly clean, a stronger, professional-grade window cleaning solution is needed. Not to mention, climbing ladders to reach high-up windows is a risk you shouldn't have to take. To keep yourself safe and get a thorough window cleaning, call your local dunkirk professionals today. We'd be happy to help!
We want all the windows in Dunkirk to last as long as possible, including yours! So if you want to hire a company that will take excellent care of your windows, give us a call!
Dunkirk, Maryland
Our technicians have years of experience with exterior maintenance in Dunkirk MD. We're fully insured and licensed to handle a variety of jobs. Our company mission is 100% customer satisfaction and we work hard to attain it. We promise friendly and affordable services! For pressure washing services in Dunkirk, give us a call.
Calvert County Towns We Serve
Dunkirk
Huntingtown
Prince Frederick
Owings
Chesapeake Beach
Solomons
Counties in Maryland We Serve
Calvert
Anne Arundel
St. Mary's
Charles