Driveway Cleaning Port Republic, MD
FREE Quotes
Reliable & Quality Service
Affordable Rates
100% Customer Satisfaction Guaranteed
Let's face it. Over the years with daily traffic and changing weather conditions, your concrete or asphalt driveway will start to look dirty. The color may fade, mold and algae will start to grow, and not to mention the occasional oil stains here and there.
Dirt and grime will continue to build up on the surface which, if left untreated, will deteriorate the asphalt or concrete over time. They may even create a dangerous, slippery surface when it rains and the surface is wet. 
Every year or so, it's necessary to pressure wash your driveway to keep it maintained, safe, and to expand its overall lifespan. At Calvert County Brothers Pressure Washing, we are careful not to damage the driveway with harsh cleaning solutions or harmful pressure levels which can cause the surface to weaken and crack. Our technicians will get your pavement to like-new condition once they are done. Our mission is 100% Customer Satisfaction Guaranteed.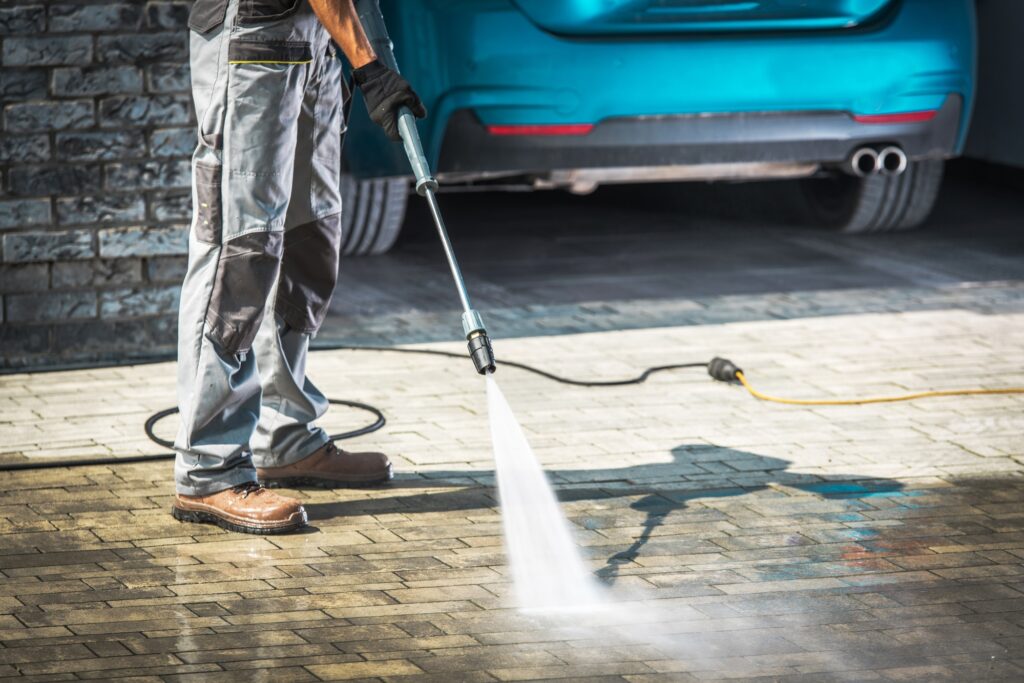 Call For A Free Quote
240-466-6888
Professional Concrete & Asphalt Cleaning
Calvert County Brothers Pressure Washing is a locally owned company that provides pressure washing and soft washing services throughout the Southern Maryland area. We specialize in gutter, siding, soffit, deck, driveway, and roof cleaning with years of experience. And we love what we do! Our team strives to provide the highest quality services to our customers throughout the Southern Maryland region whether it's the equipment or materials we use, our pressure cleaning process, or our attitude on the job. Call us today for a FREE estimate.
Home Walkway Washing
Let our team give your walkway some much-needed love. We will properly clean the surface and remove dirt buildup with our gentle soft wash system. Our goal is to ensure the job is done correctly and safely. We soft wash a variety of walkway material including stone, brick, and concrete, and ensure that no damage comes to the surface.
We understand that with pavers in particular if the water pressure is too high, it could cause the pavers to move around and separate from each other. You can rest assured knowing that our technicians are trained to use the correct pressure level for each surface material. After the job is done, you will have a safer and healthier walking surface free from harmful contaminants.
Driveways That Look Like New
It's time to expand the life of your driveway with our professional pressure washing techniques! Prevent future damage to the pavement by keeping it clean and maintained. One of the first things people notice when visiting a home is the driveway. That's why we recommend cleaning it about once per year to keep your entire home looking fresh.
We have 10 years of experience pressure washing driveways in the Calvert County area and have the industry knowledge to do the job right the first time. You don't have to worry about extra repair costs from a poor washing job. We will leave your property looking beautiful and impressive! Make your neighbors jealous with routine driveway and walkway maintenance. We also offer gutter clearing to keep your property functioning properly.
Calvert County's #1 Driveway Pressure Washer
We have been committed to 100% customer satisfaction ever since our beginning in 2010. We have a special approach that sets us apart from our competition. Our team handles all aspects of the project, from the initial assessment to the cleaning itself. Our goal is to leave you satisfied with a beautiful home exterior that will serve as an additional aesthetic asset to your home.
We proudly serve the entire Calvert County including towns in Anne Arundel, St. Mary's, and Charles County.
240-466-6888